Circulation and Distribution Range
Coverage and visibility are the most important criteria for the selection of a professional media distributor. pressetext is one of the leading press distribution networks in Europe. All of the large media houses in the German speaking region as well as more than 250,000 journalists and opinion leaders receive daily releases, photos and videos from pressetext. © Newsfox is the international service of pressetext, and offers full access to editorial departments, financial centers and companies within Europe and the whole world.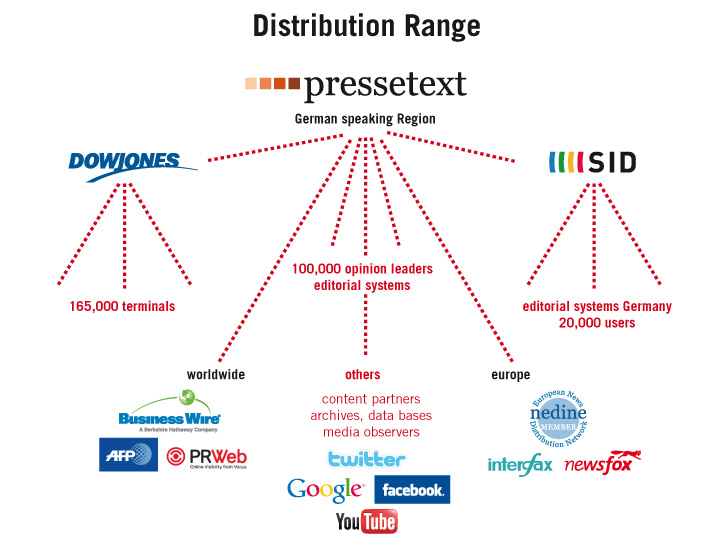 Directly to Editors
• Access to European media and the financial community
• Releases sent out via pressetext/newsfox, Dow Jones, SID/AFP-satellite to print media, radio, television, online media and news agencies
• Reach nearly 100,000 e-mail subscribers, including about 15,000 journalists and more than 80,000 decision makers and opinion leaders
• Additional dissemination via RSS Feed
• Unlimited text length and 5 photos included


On the Internet
• Releases will be published on pressetext/newsfox (SEO-publishing of your message in your electronic press kit (about 1 million visits)
• Dissemination to dozens of databases (Factiva, Lexus Nexis, Genios, Swissdox, Ausschnitt, Landau Media etc.)
• Appears on 350 websites, news portals and on the main search engines (Google, Bing, Yahoo)
• Publication in a number of free websites such as pr-inside.de, premiumpresse.de, ptext.de etc.


Information: info@pressetext.com
Using Social Media
• Visibility of your press release on Facebook, Twitter and many other services
• Optimized display of your message for Smartphones
• Availability of your content from the pressetext-apps for iPhone, iPad, Android
• Share features for Web 2.0 linking to your content


Free Extra Services
• Bundling of your web activities in your electronic press kit (Web Links, RSS feeds, Twitter, Facebook, smartphone apps)
• Delivery report for each press and capital market release
• pressetext-integrated app for Facebook messages to your Facebook page
Payment for Additional Services
• Research and delivery of tailored mailing lists
• Advice on establishing search profiles for social media monitoring
• Support for translating and editing (editorial services)